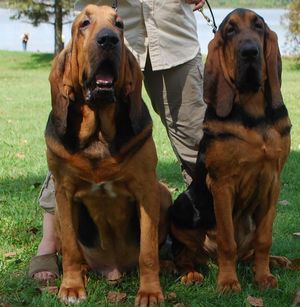 Bloodhound Right for You?
 
The Bloodhound is a scent Hound of great ; size, strength and stamina.  The design of the Bloodhound makes him a Dog attached to a "nose" with the greatest scent capabilities out of all breeds. A Bloodhound can follow a scent trail over 30 days old! Once you realize the form and function of this breed you begin to understand why they are so unique and unpractical for many dog lovers. The Bloodhound has a noble and dignified expression. His loose, super-abundant skin drapes into pendulous folds especially noticeable around the head and neck.
Although his origin is left to speculation, we owe his development to St. Hubert, Patron Saint of the Hunter. It is believed that Hubert originally obtained stock from Southern France. The breed was perpetuated by succeeding abbots who continued after Hubert's death.
Couch potatoes Yes... Good ole country porch dogs No
The new owner must be prepared for their intelligence, creative and  destructive abilities, and desire for a well structured and consistent  lifestyle. The Bloodhound is by far NOT easy but for those captured by the breed they are totally worth it.
A loose Bloodhound is a "missing" Bloodhound. Bloodhounds require a large fenced in yard. They are a breed that must be challenged physically and mentally, otherwise they may resort to destructive behaviour. A swing of his head can spread saliva 20 feet. Although short haired, they do shed!  Beloved antiques can be ruined with one stroll through a living room. His enormous size, food requirements, vet bills, and inherently shorter life span make him a dubious companion for the average dog-lover.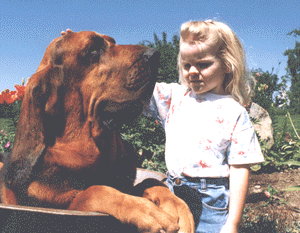 His adoration of children and love of his human family make him a wonderful family companion although small children should never be left with any large dog unattended. Bloodhounds can be clumsy knocking over children accidentally.
Know the Bloodhound Before you Buy
If you have decided that the Bloodhound is the breed for you, it is imperative that you invest the time and effort to find out the characteristics, requirements, advantages and drawbacks of owning this noble Hound. Attend dog shows in your area and study the Bloodhounds as they are judged; talk to exhibitors and breeders. Visit as many kennels as possible and compare the puppies that are available. This may be difficult as there are few Bloodhound breeders.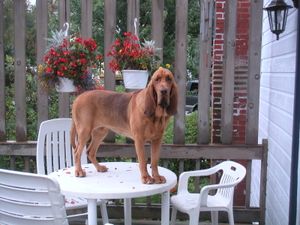 Facts to Consider Before You Purchase

Location - If you live in an apartment, think seriously before purchasing a Bloodhound. An 8 week old, 20 lb. puppy will fit into a condo when it's purchased, but a Bloodhound puppy grows 4 - 7 lbs. per week and 1/2" - 1" in height per week. He will shortly outgrow your lovely "little condo". A Bloodhound prefers a fenced yard and room to grow. 

Decision - If you want a Bloodhound for the family but your wife wants something smaller, think twice. Statistics show that the wife does most of the feeding, training, cleaning and grooming. As your Hound grows in size, your wife's enthusiasm will fade in relation to the increased needs of this giant. Never purchase a puppy to "grow up with the baby" unless you are prepared to cope with the extra work load.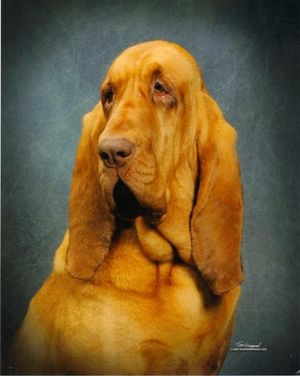 Breeding - Breeding any purebred stock is an art and a science requiring an in-depth knowledge of genetics, bloodlines and breeding characteristics.To ensure future breed strengths and type it is essential that only the most superior hounds are bred. Many inexperienced new owners try to "recover" their original purchase cost by breeding a "litter or two". They inadvertently breed inferior quality dogs. These people often equate a "Ch" with breeding quality. A few have the "sale of the week" with hopes of unloading older puppies. If you have the desire to breed for income or to supplement your income, choose a breed that is less costly to raise and has a more extensive market. Most breeders sell their puppies with a "Non-Breeding Contract", which is registered with the Canadian Kennel Club, and is kept with the dog's file.The Non-Breeding contract on a dog means that the dog cannot be bred, and if he/she IS bred, then the puppies of the resulting litter cannot be registered. The breeder may have certain conditions which must be met, and then arrange to have the Non-Breeding Contract removed from the dog's file. Some breeders will even have their pups spayed/neutered at a young age prior to letting them go to their new homes.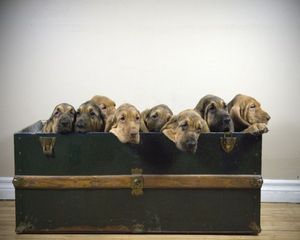 Responsibility - Once you have acquired a Bloodhound, you have also acquired a whole new set of responsibilities and are no longer the carefree souls you were. You cannot run off for the weekend and leave him to the tender care of your neighbours. He is a dog that requires a lot of personal attention and supervision through his first year. He is not one that thrives on a bowl of food and a bed in the garage. An adult Hound is not easy to place in another home, especially if he has acquired bad habits. Getting back your original purchase price through resale is next to impossible. In your desperation to unload an unwanted Hound,  you might inadvertently let him fall into the hands of an uneducated and/or irresponsible breeder.

Showing - If you want a show dog, it is essential that you make this fact clear to the breeder. No breeder can guarantee you a "Ch.", but he can select a puppy that in his opinion, is of superior quality and free of visible faults that would eliminate the puppy from show competition.

Tracking or Trailing - This is the breed's main purpose and intent. Bloodhounds are know as a "nose that has eyes". Field work can be most fulfilling and exciting as you and your dog work as a "team". Field work requires a lot of hard work, time and patience but is worth every minute when your dog has a TD (Tracking Dog title) or TDX (Tracking Dog Excellent title). This work is not for everyone or every dog.

Protection - Is he a watchdog? Yes! Is he a guard dog? NO! NO! NO!! Guard dogs and watch dogs are not synonymous. The end result of people who try, is a vicious, unpredictable and potential four-legged lawsuit in their backyard. The Bloodhound is a very sensitive breed. He is extremely intelligent and quick to learn if the owner is patient and capable of communicating his needs to him.

Obedience - it is highly recommended that you take your dog to obedience classes at a young age. You must realize that a full-grown male can reach up to 130 lbs, and it is best to have some control over the dog while he is still young and before he is large enough to drag you off your feet. There are obedience trials where you can obtain the titles CD, CDX and UD. Bloodhounds may not learn as quickly as some other breeds, but they can certainly learn through slow, steady training and patience on your part.

Rescue - Both the Canadian and American Bloodhound Clubs have rescue systems in place, whereby mature dogs are retrieved from shelters or turned in by their owners, and placed in loving homes. All Bloodhound rescue organizations require a donation for the dog, which has been spayed/neutered, is current on their vaccinations and temperament evaluated. More information and an application form can be obtained by contacting one of the rescue coordinators listed in this site.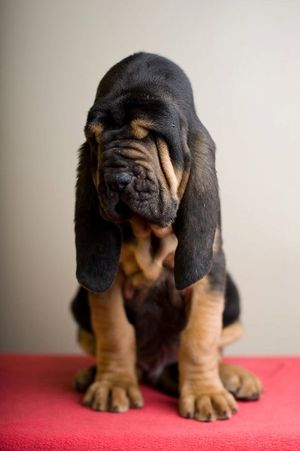 What Should a Novice Look For in a Puppy?
1. Get to know the breeder. Visit him, talk to him, become acquainted with his stock and his breeding record. Breeders who are members of the Canadian Bloodhound Club are required to sign and abide by the club's Code of Ethics.
2. Check his kennel for cleanliness, odour, clean drinking and eating utensils and the care and housing he gives his Hounds.
3. Puppies should be healthy, clean and happy with clear eyes and noses. A puppy should stand with all four feet pointing forward, big tight feet, heavy bone, ears that reach the tip of the nose, square lip, narrowing face and noticeable loose skin around the head and neck.
4. Puppies should be outgoing and curious with a happy, "tail wagging" disposition, rather than nervous or shrinking from visitors.
5. Age is important. Beware of the breeder who tries to sell you a puppy less than 8 weeks old. However, many breeders do not let a puppy go to a new home before it is 10 to 12 weeks.
6. There is no preference given to the colour in the Breed Standard or in the show ring. The colours are black/tan, liver/tan and red (tawny). 
7. Visible faults can be checked in a young puppy of 10 weeks; over or underbite, feet badly turned in or out and screw tails. It is your responsibility as a buyer to discuss any faults you don't understand with the breeder.
8. Puppies should have their first set of puppy vaccinations before they go to their new homes (DHLP-Parvo) and complete instructions for follow-up vaccinations.
9. It is the breeders responsibility to supply the purchaser with full feeding instructions, a complete medical record, a 3 to 4 generation pedigree and CKC registration papers. YOU SHOULD ASK FOR A WRITTEN CONTRACT.
10. BEWARE OF PUPPY MILLS AND PET SHOPS! These puppies are shipped, sometimes as early as 5 weeks old, from dams that are improperly fed and cared for during pregnancy and without the socialization and nutritional care so necessary for healthy development. There are no "Bargain" Bloodhounds.
Further Reading Material The Complete Bloodhound - by Catherine F. Brey and Lena F. Reed. Howell Book House Inc. Available from Dogs In Canada, Toronto, Ontario How to Raise and Train a Bloodhound - by Hylda Owen. TFH Publications. Available at most pet shops. Yankee, the Inside Story of a Champion Bloodhound - by Roger Caras, G.P. Putnam's Sons, 200 Madison Ave., New York, NY 10016